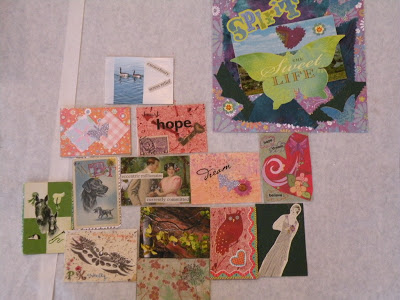 Every artist dips his brush in his own soul, and paints his own nature into his pictures. ~Henry Ward Beecher
One of the biggest lessons I learned my first semester is that by using other mediums to create I would often open up my writing blocks, for example when I was doing collage the words came easier. Recently I tried my hand at making artist trading cards with a group of friends. The small scale of the card took away a lot of the fear of the "big blank canvas". There are only two rules for this medium.
1. The size 2 1/2″ x 3 1/2″
2. Artist Trading Cards (ATC's) should only be traded never sold.
More info and an ATC gallery.
Today, consider making your own ATC's, use them as business cards for your blog or website. Now get back to work!
Lovingly,
The Writing Nag
(Visited 28 times, 1 visits today)