How often have I lain beneath rain on a strange roof, thinking of home. 
William Faulkner
It is the fifth day of cold, rainy weather…very reminiscent of Portland and Ireland. I am of course enjoying it because I'm one of those people who loves gray days. While I enjoy the sun I'd rather have the sun in moderation, the opposite of living in Colorado. Gray days make the colors in the garden more beautiful and the plants are happy I think knowing it won't last for long.
If you look really close you can see the pinkish/purple buds of the Concord grapes.

The pink lupine is my favorite. Anyone know what the bell flowers are called? I can't remember.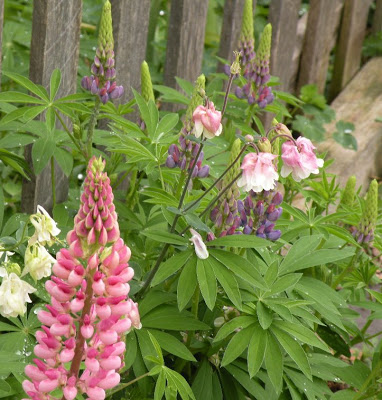 A wind chime hangs from an old screen door.
My gnome girl guards the garden.
Today, pick your favorite season and write about it in detail. List at least twenty details in a short one page piece, then take the details and  work them into a poem. Now get back to work!
Lovingly,
The Writing Nag
(Visited 50 times, 1 visits today)