Ink surrounds me all the time
On my bed sheets, recorded in rhyme
Quills ever scribbling in my head
Sometimes damnit I forget what they said.
Ink has settled into my fingerprints
But to keep the words I fear to rinse…
This quote is from my favorite place to look for quotes (quotegarden.com) by the founder of quotegarden.com. Please visit this wonderful website when you are
browsing for quotes.
I'm back from Vermont with my diploma in hand. After two and a half years of working towards this goal it seems hard to believe it's really here. We had beautiful weather in Vermont after the storm cleared out on Friday. Many of the leaves were taken down by the storm but there was still enough of them to appreciate the beauty of foliage time in New England. I'm ready to stay home for awhile. Too much time away from home makes me want to cocoon in my house and appreciate everything Colorado has to offer. This picture is from last fall. Not nearly this many pumpkins this year! I hope to get back to my regular blogging habit soon!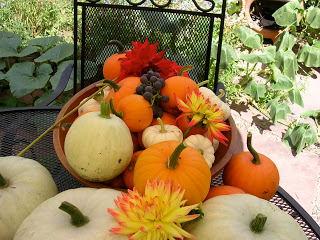 Lovingly,
The Writing Nag
(Visited 17 times, 1 visits today)