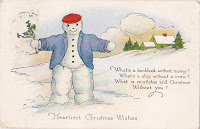 And none will hear the postman's knock
Without a quickening of the heart.
For who can bear to feel himself forgotten?
W.H. Auden
I started my vintage postcard collection when I bought a set of 150 antique holiday postcards and photo postcards at a garage sale for $5.00. They were worth much more. That was three years ago. I didn't know much about old postcards but I loved the colorful images, the illustrators and especially the hand written messages on the back of the cards. I've tried to stick to collecting one illustrator and one theme but if I can find cheap postcards (.05-.25) or unique photo postcards they usually make their way into my collection.
Dear Lilly, Stir yourself and write me a letter Lovingly, Your Aunt Lulu reads one of the cards. Maybe I find them so charming because the generation of people who regularly sent postcards and letters are no longer with us and the language they use is reminiscent of the times. I also love that back then many American companies like Gibson, Dennison and Whitney were churning out hundreds of thousands of postcards, supporting American families and the popular illustrators of the day. These cheap penny postcards were a way for families and friends to keep in touch. There are a lot of stories in these cards and reading them connects me to Aunt Lulu and Lilly if only for a few minutes.
Collecting antique or vintage postcards.
Caring for vintage postcards.
Today, stir yourself and write someone a letter, not an email or a text but a genuine letter or a postcard. You will make someone's day. Now get back to work!
Lovingly,
The Writing Nag
(Visited 53 times, 1 visits today)