This post brought to you by
Microsoft
. All opinions are 100% mine.
"The world is a book, and those who do not travel read only a page." St. Augustine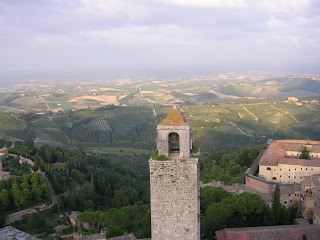 On our last trip to Italy we spent much of our time in the Chianti region of Tuscany with occasional day trips to outlying villages and historic cities. It was a memorable vacation filled with incredible meals, wine and olive oil tastings, museums, tours and moments of simple relaxation but had I planned it a little better I would have included a couple of days in the Cinque Terre region. Last week I had the opportunity to plan a 24-hour trip to the picturesque coast of the Italian Riviera, Cinque Terre, using Microsoft OneNote. I'm confident that any future travel plans will include this fun and easy digital notebook program.
I've never used Microsoft OneNote so I prepared myself for a bit of a learning curve but it was very easy to get started. I began my TripBook with a welcome page and I was easily able to add new sections within minutes. By adding sections for food, drink, hotel, hiking and a quick itinerary I could organize my research and notes. If you feel overwhelmed with the details of vacation planning this is a great place to start.
Begin with research. With only 24 hours in the Cinque Terre I wanted to take advantage of the best of the Italian Riviera…I chose to concentrate on hiking, eating the local foods and sampling the wines. I used the research function to access websites, blogs, tour companies, restaurant reviews, hotel rates and simply inserted pictures, screen shots and general info. Because you can type anywhere on the page in OneNote you can easily jot down notes so you won't miss anything. And Tags let you easily add lists and follow up functions like addresses, photo numbers, and contacts to your TripBook. Tags also help with prioritizing and remembering important info!
Plan everything ahead of time. While the Cinque Terre has many options for accommodations I chose a luxury hotel for the close proximity to the hiking trais, the views, and breakfast. Getting a good night's sleep was paramount after a long flight from Denver and with a long hike on the next day's agenda. Okay the views from the terraced hotel rooms had a lot to do with it too! By planning meals ahead of time I knew that no minute of my short 24-hour trip would be wasted.
Have fun with formatting. When all the research and planning was done I found the formatting functions in OneNote inspired my creative side. I could change section colors, draw, highlight, arrange photos, link notes and even record audio and video.
Share your thoughts. If you're planning a trip with other people OneNote has simple collaborative tools so you can share your TripBook with others. For longer trips I thought it would be fun to assign each travel companion a day or a section for a one of a kind vacation.
Now my
OneNote TripBook
was almost ready. But instead of stacks of paper file folders, emails, notes, journal entries and attachments I just had one TripBook. And within my TripBook I could effortlessly move, edit, and add and delete information as I finalized my travel plans.
The more I used OneNote the more ideas I had including starting a writers' notebook and using different sections to organize all of my writing projects. Journaling your trip for a blog or to share with family and friends would be another fun section to add to your TripBook.
Lovingly,
The Writing Nag
(Visited 52 times, 1 visits today)