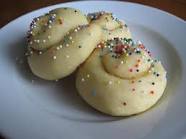 Christmas waves a magic wand over this world, and behold, everything is softer and more beautiful. Norman Vincent Peale
It's hard to think about Christmas without thinking about Christmas cookies and Italian cookie trays.
Saveur has a wonderful cookie advent calendar. Today's cookie is Paste di Meliga. Here's one of my favorites, Italian Orange Juice Cookies.
Today, think about one of your favorite family recipes and start a poem, essay or short story that centers around the recipe. Consider how food brings people together and how your characters (if writing a short story) might interact due to the inclusion of food. Need inspiration read one of my favorite foodcentric literary journals, Alimentum. Now get back to work!
Sweet vintage looking holiday memory book!
Lovingly,
The Writing Nag
(Visited 28 times, 1 visits today)