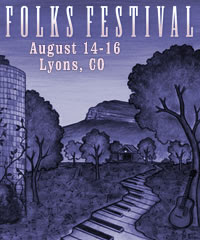 A good style should show no signs of effort. What is written should seem a happy accident. ~W. Somerset Maugham,
Summing Up
, 1938
Sunday I spent all day in Lyons, Colorado at the 19th Annual Rocky Mountain Folks Festival. The festival was all weekend but I can't seem to ever get that much time off…so instead we picked Sunday…highlights of the day.
Brett Dennen Aint No Reason, Gillian Welch, Blind Pilot, M. Ward, and the Tibetan Drepung monks who also led a meditation during the day. The festival is located about 15 miles north of Boulder and is one of the best run music festivals I've ever been too.
Amazon.com Widgets
After being away 18 hours I am tired, sunburned and I need another day off but watching these creative people living their dream was pretty amazing.
For more info about The Songwriting School.
Lovingly,
The Writing Nag
(Visited 15 times, 1 visits today)