I'm still waiting to hear from Switzerland's tourism site,
My Switzerland
; they have yet to take me up on my blogging offer. I have offered to fly to Switzerland and blog about each of their Swiss travel packages that they call "Swiss gems" if they just pay for it. I haven't heard back from them yet…but they did allow me to write more about their attractive packages that would appeal to every creative traveler. If they did allow me to blog about these fun Swiss trips, my offer is still valid… the following would be my top five picks.
For a writer who also loves history and paper my first pick would be a class in medieval paper-making. This is offered in Basel at an old paper mill. Historical printing presses, workshops, and the chance to make your own colored paper are offered in the historic mill.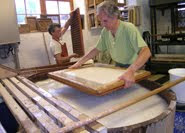 My next stop would be a horse drawn carriage ride through Lucerne which also includes gourmet food. I'd take my sister on this trip because we both love tours and it includes one of her favorite foods, cheese. Cheese fondue and Raclette. If you've never had Raclette (meaning scraped) it's a delicious melted cheese dish usually served with potatoes, gherkins and pickled onions. Eating this indigenous food in the city of lights is an experience that shouldn't be missed.
My third pick would be a ghost walk through Zurich. Not only does this trip offer you the dark, spooky history of the famous Swiss city but it also offers a unique adventure for those who love ghost stories. If you write horror or suspense this could be the gem for you!
My fourth pick is for my husband. He would really enjoy discovering the wine country of Switzerland in the "day in the vineyard" tour. Guests can participate in the autumn harvest and share a communal lunch with all the workers. Taste the wines of Switzerland that make the cheese fondue so delicious.
My last pick was a difficult decision, there is musical box making, river rafting, the cog railway, a day in the dairy, herb gathering and many more adventures in Switzerland but for me I would wind down my Swiss vacation with a historic hotel tour complete with a gourmet seven course meal with seven fine Swiss wines. What better way to end the day? I'm sure that chocolate is part of the last course.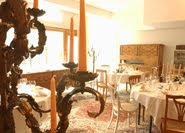 These are just my top five picks what would yours be? I'll let you know when I get the email to Discover Swiss "Pearls" if anyone would like to join me on a creatively inspired vacation to Switzerland…my bags are already packed.
Lovingly,
The soon to be traveling to Switzerland Nag ; )
(Visited 19 times, 1 visits today)