This post brought to you by
Whitney Farms
. All opinions are 100% mine.
"To be a successful farmer one must first know the nature of the soil." Xenophon, Oeconomicus 400 B.C.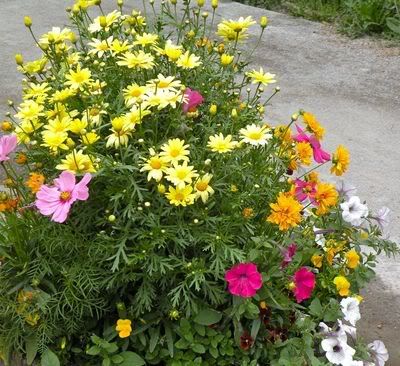 This is a picture of one of my flower pots grown last summer in 
organic soil
. When you're using 100% natural plant food you get bigger more beautiful flowers. Choosing the right plant foods and soils really makes a difference. 
Whitney Farms®
 plant foods and soils have no additives, they contain all the right microbes and the macro and micronutrients your plants need. Your flowers and vegetables will love and thank you for going organic. Ok, your plants won't really thank you but when they're strong and healthy, big and beautiful you will feel the love emanating from their roots to their leaves to their petals. Whether you're growing a butterfly garden, an English country garden, or are just starting out with a vegetable garden think good plant foods, organic soil, plenty of sun and water.
This year I'm growing vegetables and it just makes sense to use 
organic soil
. Two of my three raised beds will be dedicated to growing organic vegetables. So far, I have Japanese eggplant, broccoli rabe, tomatoes, peppers, garlic, onions and Rainbow Swiss Chard planned.   
Give Whitney Farms a try…
right now
you can get a $3.00 coupon to try Whitney Farms 
organic plant food
! But hurry because the offer expires soon! You'll be on the way to terrific tomatoes, gourmet herbs and bountiful berries with 
Whitney Farms®
organic plant food
!
(Visited 41 times, 1 visits today)